Department of Art
Undergraduate and Graduate Admission and Portfolio Requirements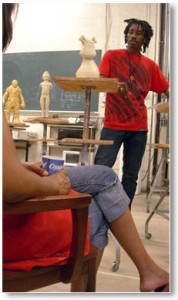 1. Admission Requirements
SAT/ACT/GRE: Check with the Office of Admissions, as averages vary from year-to-year.
GPA: Minimum 2.5 GPA is required for undergraduates and a 3.0 GPA is required for graduate applicants.
2. Portfolio Requirements
Applicants for admission to the Bachelor of Arts degree in Art History are not required to submit a portfolio.
Applicants for admission to the undergraduate Bachelor of Fine Arts degrees in:
Ceramics,  
Electronic Studio, 
Painting, 
Photography, 
Sculpture, and 
Design, including 

General Design, 
Fashion Design, and 
Interior Design
are required to submit a portfolio of twelve (12) examples of their work with no more than two (2) views of any single work to the Department of Art through Slideroom.com. Artwork should be clearly marked as to the title, materials, size, date and the applicant's role in the production of the work (if applicable).
Applicants applying for acceptance into the Master of Fine Arts program must have a minimum cumulative grade point average (GPA) of 3.0 for admission. Failure to maintain the required grade point average (3.0) by any student will result in the denial of admission to candidacy and suspension from the MFA program.
M.F.A. applicants must submit:
A portfolio of 15-20 slides with no more than two views of any one work, presented through Slideroom.com. The images must be clearly marked as to title, materials, size, and date.
A biographical essay, typed and double-spaced, consisting of no more than two pages. The essay may deal with personal history, motivational aspirations, and goals.
Two letters of recommendation.
Slideroom.com is the preferred way to submit the portfolio, but if it is necessary to submit a physical portfolio, applicants must send the portfolios, one (1) copy of the biographical essay, and (2) letters of recommendation to:
Dr. Tony McEachern, Chairman
Department of Art 
Division of Fine Arts 
College of Arts and Sciences 
Howard University 
2455 6th Street, NW 
Washington, DC 20059 
202.806.7047
In addition, the following items may be considered in determining adequacy for admission:
Interview and/or Questionnaire
Written Statement of Purpose
Howard University Admissions Procedures:
All students must apply through the University. For more information about the University admissions procedures, please visit the University's Admissions section.
---