The Howard University Department of Art Takes a Philosophical Look at Art Education
by Dr. Tony McEachern, Chairman and Associate Professor (originally written 03/19/2010)
Below is a narrative to be considered in regards to the Howard University Department of Art as an irreplaceable conduit and outlet for the essential type of qualitative research and development that has helped inform, identify, and shape the Global community. This narrative explains the philosophical framework by which the Department of Art employs visual literacy, creative investigation, critique, dialectic discourse and idea exchange to expand the intellect of our students, as we develop agents of positive and innovative change.  This narrative also includes a qualitative accounting of the influence of our department faculty and graduates in the fields and professions of art and design, including public arts, exhibition arts, media arts, art historiography, art education and art management juxtaposed against formal research traditions and methodology.
The Howard University Department of Art offers undergraduate courses leading to the Bachelor of Arts degree in Art History, Fashion Merchandising, and Interior Design; the Bachelor of Fine Arts degree in Painting, Design, Printmaking, Photography, Ceramics, Sculpture, and Electronic Studio; graduate courses that lead to the Master of Arts degree in Art History; and graduate art studio courses that lead to a Master of Fine Arts degree. The Howard University Art Department is an accredited institutional member of the National Association of Schools of Art and Design (NASAD).
In harmony with the University's mission, the Department of Art is committed to graduating socially conscious professional artists/designers and scholars who have the ability to visually and verbally articulate their ideas in a technologically driven world. Empowered by their knowledge of the arts, humanities, sciences and digital technologies, our artists, designers and scholars are prepare to service society on a local, national, and global level.
The primary goal of our Department is to present a multifaceted educational program of study that distinguishes itself as "unique and advantaged" by offering a professional degree program that is enriched by academic support from: the College of Arts and Sciences; the School of Communications; the College of Engineering, Architecture, and Computer Sciences; and the School of Business.
Our educational programs, both undergraduate and graduate, are uniquely positioned to contribute to Howard University's vision of becoming "the first HBCU to become a top-50 research University" as our creative and artistic programs are situated in the qualitative paradigm of scholarly research. Traditionally, research institutions have gained their identities as such, through the quantitative paradigm and the scientific method of inquiry, but scholarship in the arts has deemed realist objectivity as incomplete when addressing humanity and thus the artist/scholar demands methods of inquiry that offer more of more richness in data and more voice from its subjects. Creswell (1998) argues that qualitative inquiry represents a legitimate form of social science exploration. And in agreement with Creswell, our art faculty offers no apology or comparison to quantitative researchers for the way we investigate the world within and around us. We educate with the same intense rigor, degrees of difficulty, and academic discipline as our peers of the quantitative school of inquiry.
To better understand the method of inquiry that is promoted by our educational programs and demonstrated by our students and graduates, it is imperative that we offer this narrative of explanation. The Department of Art is positioned in the qualitative school of inquiry. The root to qualitative is quality and that is indicative of richness. This means richness or quality in the data that is collected as we investigate the world around, as well as within, us. This richness is not separate from the quantitative moods of inquiry. It is intended to add to it so that our knowledge is expanded beyond the objective realm of understanding.
PHILOSOPHICAL COMMITMENTS
THAT GUIDE OUR CONCEPTUAL FRAMEWORK

As artists/scholars positioned in the qualitative school of inquiry, our creative process does not exist in a vacuum. Our educational programs in the HU Department of Art are situated in two primary theoretical paradigms. These two are the interpretive and the critical approaches to theory or concept development. There is also a strong philosophical framework that we use for theory and conceptual development and testing and it structures our creative process. This philosophical framework is guided by three primary meta-theoretical assumptions: ontology, which is the nature of the world and reality; epistemology or the nature of knowledge, itself; and axiology, the nature and roles of values.
The artist/scholar's ontological position is that of the social constructionist as most artists adopt the perspective that social reality is based on the inter-subjective agreement of shared definitions and meanings based on the symbolic interaction of members within a specific society or a collective of like publics. These symbolic interactions are embedded with codes that can be interpreted by other members of the society, or learned individuals external of a given society.
To understand the nature of knowledge in the social world, the artist/scholar primarily accepts the subjectivist epistemological position because in studio and field investigations, the rigidity of procedural objectivity does not allow for the relative nature of the subject being investigated to be understood by the artist-researcher. This is so, because most artists are taught that to create and develop knowledge as a creative investigator, the artist should not separate him/herself from his/her work. Artists also feel that the social world can best be investigated from the point of view of the objects or subjects that are directly involved in the scenarios that are being studied, so most artist reject the idea of separation between the "knower and the known" as is required by the scientific method of inquiry. And though primarily the artist/scholar tends to take a subjectivist stance, in some cases media artists such as the photojournalist or medical illustrator are taught to be objective as they are instructed to separate themselves from that which they are studying.
Lastly, when considering the role of values in creative research, the artist/scholar are taught from the axiological stance that his/her values play an integral role in their research and thus, cannot be removed or separated from the study. As Karl Popper (1976) argued, "we cannot and should not eliminate values from the context of discovery." Our art students are taught to embed their values into their research and allow them to shape and mold their work into results that foster positive social change.
These philosophical commitments are taught in principle to the Howard University Art students from their foundation program through their major areas of concentration and stand as the structure for the theoretical or conceptual framework as they participate in courses that explore the two primary theoretical paradigms, which are (1) the interpretive and (2) the critical approaches to theory or concept development.
INTERPRETIVE ARTISTS AS RESEARCHERS

Very rarely (with the exception of the media arts) is an art or art history program or course taught from the perspective of the Post-Positivist or social scientific paradigm because this perspective on theory development is based on the rigid, objective-procedural scientific method and is rejected by most artists/scholars because of its lack of quality and richness of data. To preserve the rich legacy of African-American and Black Diaspora art and artisans, the first theoretical perspective taught by our department is from the Interpretive school of thought. As opposed to the Post-Positive theorists' ontological and epistemological positions of objective-realism, where the scientific method is used to quantify and explain the social and natural worlds, our Interpretive artists/scholars seek, not to explain, but to gain understanding of the social world. From a theoretic position, our Interpretive artists/scholars feel that this cannot be done from an objective view point; it must be addressed inter-subjectively through nominal, and more so, social constructive approaches which are strongly guided by the researcher's personal experiences and values. This also means that if the researcher wants to understand the human condition, he/she would have to consider more than the external nature of objects, but the internal nature and intuitive spirit of the subject, which we call the "dynamic human element."
And though there are many existing frameworks in philosophy, three significant theoretical positions have strongly influenced the artist/scholar of this paradigm of Interpretive Theory. These three theoretical positions are hermeneutics–the use of textual analysis to understand the inter-subjective meaning of society; phenomenology–the use of subjective experience to understand the social world; and symbolic interactionism–the use of significant symbols with shared meaning to understand social interaction. These positions are frequently used as underlying frameworks for our creative investigation and resulting expression. Art is structured on philosophy, sociology, psychology, and more and these theoretical positions help our art students create expressions that are grounded in theory.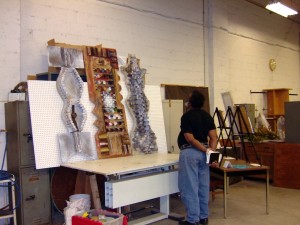 There are two structural categories of Interpretive scholarship that help us as art educators to guide our students. These categories are (1) general interpretive theories and (2) grounded theories. Though both are interpretive by nature, there is a distinction between the two. This difference exists in the ways that each category of theories is constructed. When an art student uses a general interpretive theory as a framework, they are constructing theory through an inter-subjective process of inquiry as they investigate the interactive functions related to visual communications, visual literacy, visual culture, etc. and the meanings therein. These general theories tend to provide understanding through social construction of meaning and the interpretations can be gained through social interaction. This is an ethnographic methodology of which the artist, as investigator, is a participant of the interaction. Thus, these interpretations are considered general. And because these are general in nature, the interpretations can be based on standards and evaluated based on an understanding of symbolic interaction.
In contrast to the general approach to theory development, many of our art students also use grounded theories. These grounded theories emerge from the data collected in social research to derive to theories that are more localized and help our artist/scholars gain a more specific understanding of meaning construction. These grounded theories are not general, as they help artists understand and illustrate more specific social or personal situations and also help them put these situations in context. The processes by which the artist/scholar's creative works are evaluated are in both, the review of the artistic process and the presentation of the creative work. This process of evaluation is that of artistic critique through review, peer analysis, and dialectic discourse. This facilitates and environment for idea exchange that aids in expanding the intellect of our students, as we develop innovative thinkers.
The ontological position of the interpretive artist/scholar is mostly social constructionist, as one of the major tenants of the interpretive perspective is to reject the objective-realist views of the social world held by the post-positivists. A subjective epistemology guides the inquiry of the interpretive artist/scholar. Thus, some appropriate methodologies are, as examples, textual analysis for hermeneutic circles, interviews for phenomenological studies and active participatory observation for symbolic interactionism. These and similar methodologies offer beginning points for art students as they develop their creative bodies of work and it is the creative bodies of work that ultimately become the art students' contribution to the knowledge base of their research topic. The inter-subjective nature of this paradigm is most suitable for qualitative methods because the richness of meaning in social constructionism has the potential of being lost in quantitative numeration. This interpretive perspective to theory development is associated in many ways with visual communications and visual literacy. For example, textual analysis, interpretation, and representation have tremendous influences on the creation of visual elements in public arts, photojournalism, editorial illustration and advertising design. Semiotic analysis is another major methodology used in studio arts and visual communications. One of the major roles of the art or design director is to create an accurate visual representation of the textual communication. In the creative industry of media development the creative director, in more cases than not, tends to subscribe to the interpretative perspective in theory development. This makes the Interpretive approach significant to the artist/scholar and the use of this theoretical framework guides our art students as they investigate, gain understanding and illustrate the world within and around us.
ARTISTS AS CRITICAL RESEARCHERS
Many artists/scholars who gain a sound understanding of the Interpretive paradigm seek to take their understanding to the next level. To become agents of positive social change and innovation, these art students commit to the second theoretical perspective taught by our department, the critical school of thought or critical theory. This school fosters a means for the expression of the art students of whom are discontent with the traditional art studies and strictly westernized representational and literally interpreted voices. The foundations of this paradigm shift from interpretive to critical and the presentation of three major areas of art are dramatically influenced by this critical paradigm. These areas are traditional studio art, art historical studies and digital media design.
As critical artists, we teach are students at Howard University to conceptualize beyond merely a representation of the social world for explanatory or understanding purposes. We teach our art students to transcend and create a view of the World, as they would like it to be 10, 20, or 30 years from now. As critical artist/scholars we position our ontological and epistemological commitments as a duty "to work as active agents of reform and radical change." (Miller 2005) And as critical artist/scholars, we are also commonly guided by the core notion that it is importance to use our scholarship as a vessel for social change, innovation and advancement of our global community.
Furthermore, the critical paradigm appears to be the perspective of the Black visual artists of the American protest arts movement of the 1960's and 1970's. Massive amounts of communicative art was produced and distributed through all of the major cities in the US, especially Chicago, New York, Philadelphia, and Washington, DC. This art was intentionally designed with messages of social meaning for protest rallies, call for riots, and other rebellious acts against the established order of a separate and unequal society. Among the many groups involved in this movement was AfriCOBRA, founded by the late, Jeff Donaldson, former Dean of the Howard University College of Fine Arts (now, Division of Fine Arts) and many members of the Howard University Art faculty were members of this group (Patton 1998).
Among the many theories developed by the critical tradition, there are four major areas of studies that frequently and dramatically connect our art students to this paradigm: cultural theory, feminist theory, Afrocentricity and liberation theory. These four emerge more frequently as theoretical frameworks among our art students than any other because of their significance to the reformation of modern society and the Black Diaspora. These theories have been developed to marshal the cause of free expression, accurate cultural representation, and civil/equal human rights in this modern society and can be found throughout the galleries of each annual Howard University Art Student Exhibition.

CONCLUSION: CREATIVE EXPRESSION AS SCHOLARSHIP
We as artists/scholars are, indeed, social scientists in our own right. And as such, we have to adopt, support and teach a method of inquiry that is in line with our philosophical commitments and values. For the most part, we reject the rigidity of the systematically procedural laden scientific method, as we seek, not to explain the world around us from an objective-realist perspective, but to better understand its quality and richness. This calls for the unapologetic promotion of qualitative methods of inquiry that allow for more creative, spontaneous, and flexible explorations of phenomena in their natural environments. This also allows for uniquely creative ways of presenting and exhibiting our findings. Lastly, this method accepts an artist's creative body of work as credible evidence of scholarship and permits formal critique as a valid process for evaluating the quality of the work.
Creative expression is a value in modern society, as well as in the academy. The values of the academy align themselves with the Habermas' (1989) concept of the public sphere: a free and vibrant 'space' that facilitates a forum for the exchange of diverse opinions and viewpoints for the greater good of society. This public sphere, or 'marketplace of ideas' as it is frequently called, is full of diverse voices and is not only a value of the academy, but is also the lifeblood of a civil society. To cultivate this ideology, the Howard University Department of Art has maintained a tradition of offering irreplaceable art programs and academic experiences for undergraduate and graduate students that transcend beyond the artists studios and computer labs and extends their contributions across situational boundaries (race, gender, class, culture, creed, etc.). The Department of Art is the one place on campus where all the major areas of liberal arts and sciences, communications and business can collectively and creatively explore and express each other's inner voice. This department is a melting pot for communications, culture, sociology, psychology, philosophy, theology, computer sciences, wellness and therapy, marketing and entrepreneurship, technology, media, and so much more. As a result, service is extended from the art student to communities, publics, and societies across the globe by way of the exhibition of their creative works.
References
Creswell, J. (1998). Qualitative Inquiry and Research Design: Choosing From the Five Traditions. Thousand Oaks, CA: Sage Publications.
Habermas, J. (1989). The Structural Transformation of the Public Sphere: An Inquiry into a Category of Bourgeois Society. Translation by T Burger with F Lawrence. Cambridge: Polity Press.
Howard University (n.d). Department of Art. Retrieved March 2010. Website: http://www.coas.howard.edu/art
Miller, K. (2005). Communication Theories: Perspectives, Processes, and Contexts. (2nd Ed.) New York: McGraw-Hill.
Popper, K. (1976). The Logic of the Social Sciences. In Theodor Adorno et al. (Eds.), The Positivist Dispute in German Sociology. New York: Harper & Row.
Patton, Sharon. (1998). African American Art. Oxford: Oxford University Press.
Thornton, A. (Ed.) (2009). Presidential Commission on Academic Renewal: Academic Renewal Plan. Washington, DC: Howard University.
Questions for discussion
Ontology – The nature of being or existence and how we define the "reality"
In your own words, what do you think this article is saying the ontological position of the interpretive artist/scholar. Please elaborate.
Epistemology – The nature of knowing and how we comprehend knowledge
In your own words, explain what is meant by a subjective epistemology in the article. the ontological position of the interpretive artist/scholar. Please elaborate.
Axiology – The role of values in quantitative and qualitative research
When considering the role of values in creative research, what is the artist/scholar's position regarding the role of his/her values in creative research?
In your own words, explain what the Qualitative School of Inquire is all about. What does this mean? Please elaborate.
Compare and contrast the two primary theoretical paradigms – Interpretive and Critical Research